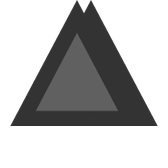 Thruhikes
A curated list of long distance hikes around the world
Hiking the GR20 - An interview with Adriaan Bouman
23rd January 2021 - 10 minute read
Adriaan is a fellow long distance hiker who walked the infamous GR20 hike in Corsica in 2018. In the following interview, he fills us in on how he planned his trip, how the trip went and lots of little tips along the way.

When did you start the hike and how long did it take to finish?
This hike started a bit delayed. During my taxi ride to Barcelona airport, I lost my phone in the taxi. I really needed my phone for navigation (OsmAnd maps) and in case of emergency. My girlfriend tried to locate the phone and managed to get a hold of the cab driver. He promised to give back my phone, but since the phone was only 3 weeks old, we never heard from him again.
I continued my journey and took my flight from Barcelona to Nice and from Nice to Calvi in Corsica. Since I was phoneless now, I needed to come up with a plan. My initial plan was to arrive on the 16th of September 2018 and start walking the next day. I bought a temporary phone at the Nice airport and tried to contact my girlfriend to make sure I could consider my phone lost. This wasn't easy with all the 2FA I set up on most of my accounts! I didn't want to start the hike with the idea someone could get access to my phone, and worse, my authentication codes! I decided to stay one extra day in Calvi to make sure all was fine and start the hike on Tuesday the 18th.
I took a taxi from Calvi to Calenzana on the 18th and started walking. On the 27th, I finished my hike in Vizzavona. I walked for 9 days and took one rest day. When I finished the hike, I had a 3 days holiday South of Ajaccio.
Did you go north to south or south to north?
I decided to walk from north to south and do half of the track (until Vizzavona). My plan is to do the remaining sections some other time. I decided to do the north to south since I planned for 9 days and not the whole GR20. If you plan to do the entire GR20, you could consider to start in the south and build up to the more challenging parts in the north.
This is a famous discussion on the GR20 forum and eventually a personal choice. I would recommend reading the pros and cons of each direction. Most people walk north to south, so if you prefer to go against the grain or enjoy to have the sun in the back or front, all good reasons and personal choices!
What was the terrain like? Were any parts, especially difficult/tricky?
The first day was super easy for me, but that was a deception in hindsight. When I arrived at the refuge the first day, I heard from people that they had a hard time. Since I had it easy, I got overconfident. Maybe I was in super good shape, and this whole trip would be peanuts!
The next day, I decided to let everyone pass and walk as the last position. I took plenty of breaks in the beginning and took it super easy. I was really enjoying it! I expected to walk 6-7 hours that day but ended up arriving at the refuge while the kitchen was already closed (around 20:30). So, no dinner that night and had to eat some of the energy bars I took with me.
The second day was the most challenging day for me. The day started with huge rock slabs, which changed into large stone boulders you had to climb and scramble. If that wasn't enough, the rest of the day you are walking on broken rocks (not even worth calling a path...) and have to scramble plenty of narrow and dangerously sharp gullies. Absolutely tiring and it felt there was no end in sight!
After day two, I was afraid all days would be like this, and I got rid of my overconfidence :)
Does the GR20 live up to its reputation of being one of the hardest hikes in Europe?
It is hard! Not undoable hard, but you shouldn't take it lightly. It is pretty exposed and can get very dangerous when you are up in the mountains, and it starts raining...or worse, get into a thunderstorm. You should really check the weather forecast and never start the day when there is bad weather predicted.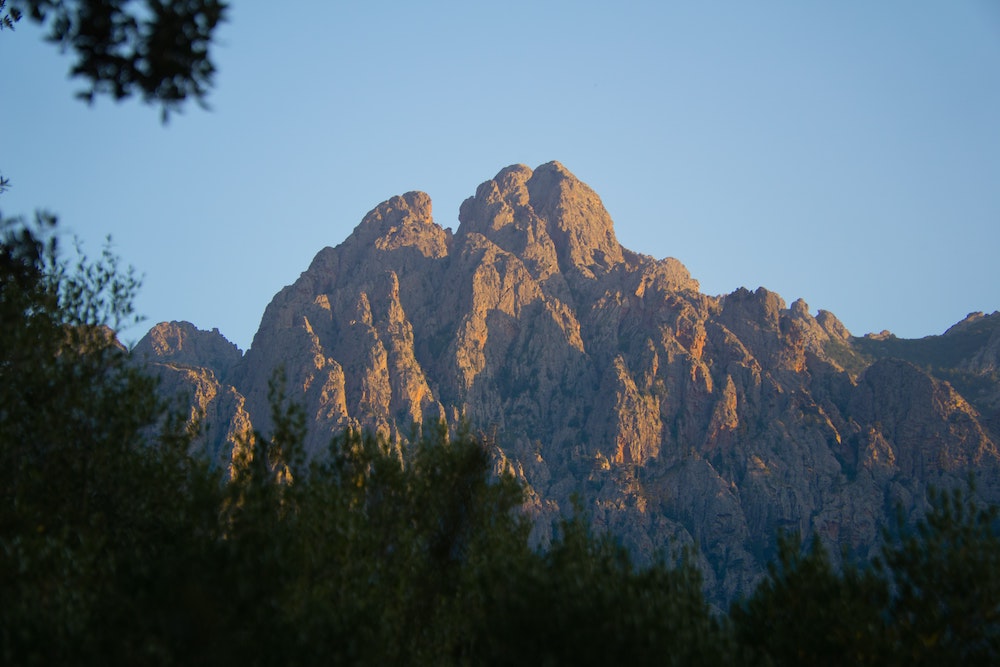 I have seen people turning around and canceling their trip because they couldn't physically handle it, so it's definitely worth taking this into consideration while planning. Alongside general good fitness, I recommend walking poles to help with the physical stress.
How did you handle food? Were there opportunities to resupply or was food available on the way?
I always bring plenty of energy bars. You can have dinner; breakfast, and resupply the basics (cheese; meat; bread; etc.) at the refuges. People also decide to cook for themselves and bring all their food, but this can quickly become heavy!
How did you get water on the trail and how much did you carry?
I always carry a carbon filter, bit didn't use it for this trip. I have 2x 1.2 liter bottles of water with me, which was plenty for this trip and never ran out of water. Depends a bit how hot it is, I guess. If you go in summer and it is super hot, maybe you should bring a bit more. The higher you get, the fewer places I have seen where I could have used the carbon filter. But possibly, I wasn't looking/searching for it..since I didn't need it.
What did you do for accommodation?
I slept in a tent (Nemo Hornet 2P) I bought especially for this trip. I chose this tent mainly because it was the lightest one I could find. I slept on a Sea to Summit Ultralight mat, which is fine but not super comfortable. For the sleeping bag, I used a 0 to 10 degrees Celsius one. You should check the weather for choosing your sleeping bag because you can save on weight with this. I also brought a sheet bag just in case I needed to sleep inside a refuge.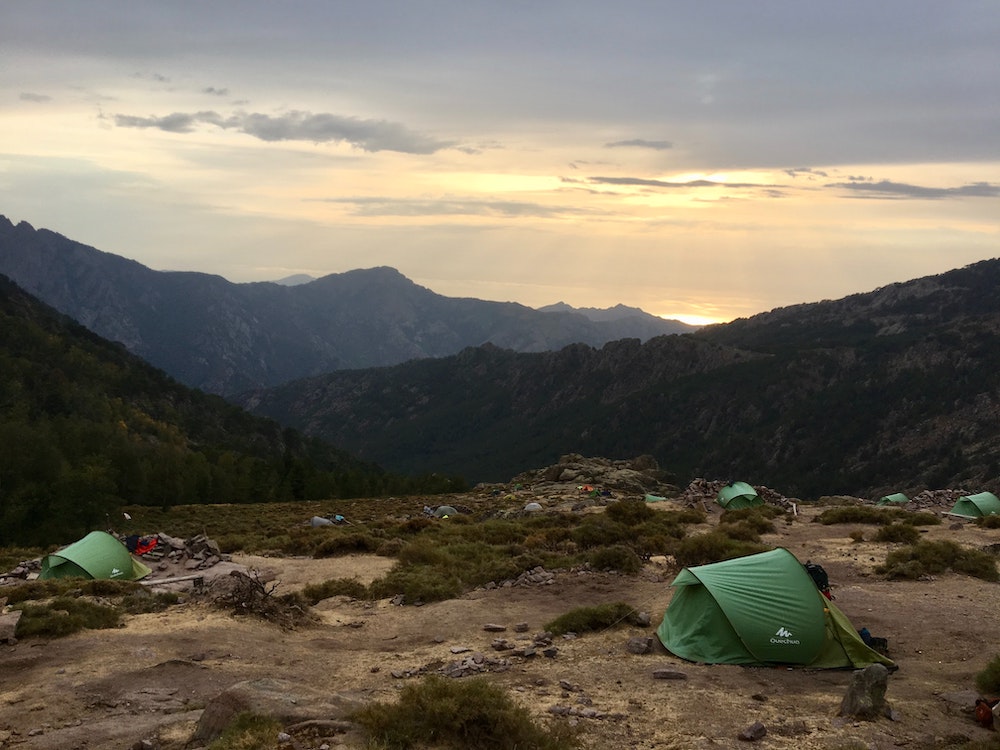 Halfway during the trip, I took the luxury to sleep two nights in a hotel. I washed my clothes here and had a rest day. This is so nice after a couple of days grinding!
Was it a solo hike or did you go with others? Did you end up tagging along with others along the way?
It was a solo hike which I prefer and like to do every year, except in 2020 :( During the trip, I met plenty of people in the evening and encountered multiple times during the day. It is one of the best parts to share stories while having dinner and jugs of wine. I prefer to walk alone during the day.
What resources did you use to plan the hike?
I mainly used the
Corsica for hikers forum
, which was the most used forum at the time. I just had a look, and it seems this forum is dead and full of spam now, so probably not very helpful! I also watch many youtube videos from people who made the trip, but that is more for inspiration and getting excited.
What motivated you to do it?
The year before the GR20, I walked a part of the 'Mare e Monti' on Corsica. Which is a gorgeous hike between the mountain and the sea. I highly recommend this walk for everyone. It is a beautiful way to get to know and fall in love with this gorgeous island. During that trip, you see the mountains all the time, and you meet people who did the GR20 before. So, that is kind of the reason why I decided to come back the next year and walk the first part of the GR20.
Finally, tell us more about yourself and what you're working on :)
I am a Dutch application developer currently living in Barcelona. While I am not working for clients, I am building my own side-projects. Recently I launched a couple of projects where I track social media growth of indie-makers and startups. You can find more information about me on
Twitter
.
Thank you for reading
Got any questions? Head over to the GR20 thread on the forums.